Brightening Skincare Bundle
Regular price
$110.00 USD
Regular price
$115.00 USD
Sale price
$110.00 USD
Unit price
per
The Brightening Skincare Bundle is the perfect skincare gift set for beauty-conscious women to treat themselves to a glow-up.  It contains skincare products that every woman needs to cleanse, moisturize, pamper and nourish her skin. It makes skin radiant, fades discoloration, acne dark spots and evens out for a smooths complexion without changing the skin color.
 The following Brightening skincare products are bundled in the Skincare Gift set bundle:
A must-have skincare set for a well-rounded beauty routine and works for all skin types including sensitive skin. It is part of an simple minimalist skin care routine.
Key Ingredients: See individual products
Free of Sulphates, Parabens, Silicone, Mineral Oils, Petroleum, Chemical Fragrances, Artificial Colors, Alpha-hydroxy Acid (AHA), Fruit Acid, Retinol
, 

Harmful Chemicals and Abrasive Exfoliants that could scar skin. Toxin-free and Cruelty free
Share
Directions for Use

Step 1: Apply a thin layer of Ekhambee Apple Cider Vinegar Mud Mask up to two times per week to clean skin and avoid the skin above the eyes. Allow to dry 5-10 minutes or until the mud is dry. Thoroughly rinse with lukewarm water.

Step 2: Wash with Ekhambee gentle Face Cleanser morning and night. Apply to hands or cloth, moisten with water, cleanse in an upward motion, and rinse off. It can be used on the face and body.

Step 3: Apply a small amount of Ekhambee Moisturizing Toner Gel to a cotton pad or cloth and wipe over the entire face and neck area. It can also be used on private parts after shaving or on legs/faces to reduce shaving bumps, and for armpit bumps, odor, and discoloration. No rinsing needed.

Step 4: Apply Ekhambee Unscented Moisturizer to clean skin and let soak in. Ensure to include the eyelids and under eyes skin to reduce the appearance of dark circles. It can be used under makeup.

WARNING: Consult your doctor if you are pregnant or breastfeeding. For external use. Not for consumption. Discontinue use for allergic reaction.

All Ingredients

See individual product description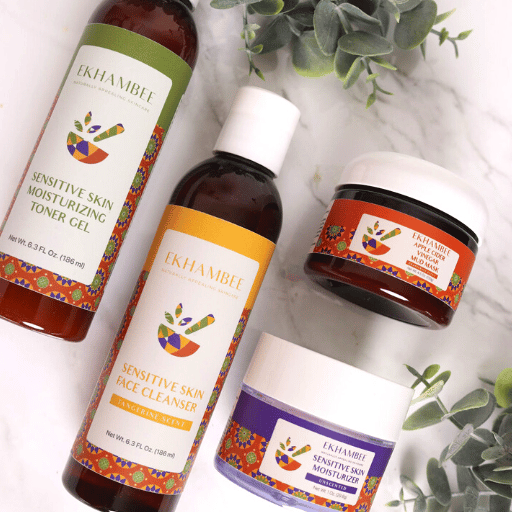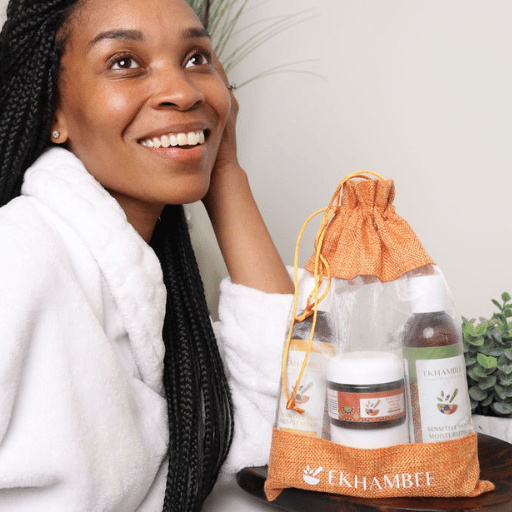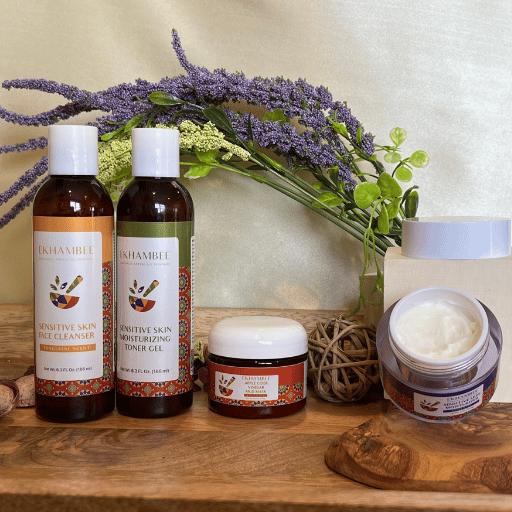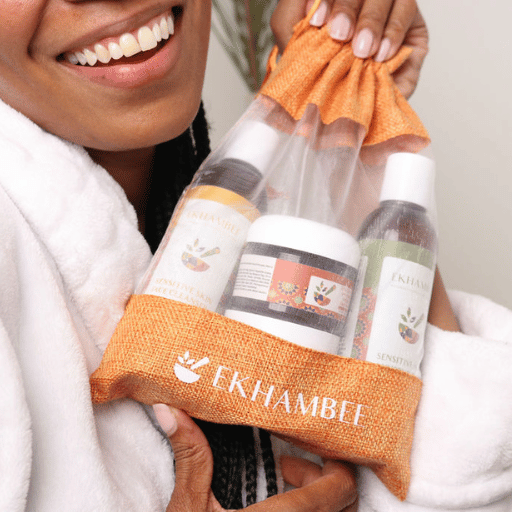 I HAD A DENSE BLACK MARK UNDER MY EYES...
Dense black mark underneath my right eye...
It is glowing...
But that mark CONCERN ME...
So happy with the results
I never really took care of skin and just washed it with water. i tried some toners in the past and they left my skin real dry.  Ekhambee skincare has been a game changer for me. I use the mud mask first, then the cleanser, then the toner, and then the moisturizer. My natural red undertone is back with a nice glow on my face. I feel so much better when i look in the mirror.
Excellent Products
These products work great on my sensitive skin. I am super sensitive to fragrances and love that they do not irritate my skin. I use the cleanser, toner gel, and moisturizer twice a day and the mud mask twice a week. I noticed improvements in my skin within the first week. Let you known the smells are amazing. Even the unscented moisturizer has a slight pleasant smell.