Pores and Blackhead Clarifying Bundle
Regular price
Sale price
$57.00 USD
Unit price
per
The Pores and Blackhead Clarifying Bundle is the perfect skincare set for beauty-conscious women to take care of their skin to a shrink pores and blackheads. It can also be used to clarify underarms for discoloration and when switching to a natural aluminum free deodorant.
It is perfect for all skin types especially combination and oily skin. It contains skincare products that every woman needs to get and maintain a smooth complexion.

The following pore and blackhead minimizing skincare products are bundled in the Pores and Blackhead Clarifying bundle:
Don't forget to your toner gel bottle pump for effortless and precise dispensing.
 See individual product description for Ingredients and directions for use.

Sulphates-free, Paraben-free, Silicone-free, Mineral Oil-free, Petroleum-free, Synthetic Fragrance-free, Artificial Color-free, Alpha-hydroxy Acid (AHA)-free, Retinol-free, Chemical-free, Free of harsh exfoliants that could scar melanin-rich skin, Non-toxic and Cruelty-free
Share
Directions for Use

See individual product description
All Ingredients

See individual product description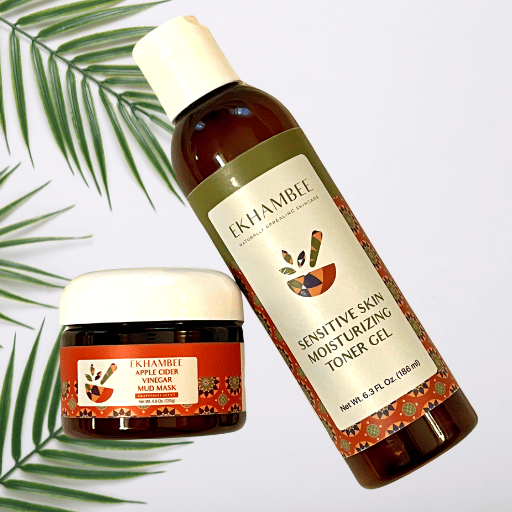 Absolutely wonderful
Absolutely wonderful product! I've used many many many products and I must say that this  skin care line works! I've seen a difference in my skin and I can't be more pleased. Thank You
The clay mask and toner are fantastic!
The clay mask and toner are fantastic. The mask has a luxurious and rich texture that's easy to apply, so creamy and smooth. I used it for about 10 mins twice a week to really let my skin detox.  It tingles when you first use it, but does not burn like many other mask, which is great for my skin sensitivity to handle. The directions say to keep it on for 5 mins -10 mins until dry. I was surprised that it dried in areas in less than 5 mins. What is really great that no mixing is required. I also used for my underarms and rinsed the mask off in the shower. The mask followed by the toner is wonderful, so soothing. Best of all is they both smell great, the grapefruit in the mask and the toner smell like some type of melon and a really good fresh cucumber, but not too much smell. They helped improve my skin hydration and elasticity, as well as reduced my acne, blackheads, pores, and excessive oil production, and helping fade those dark marks on my face and underarms.
What a difference for my pores
I have combination skin with oily on the cheeks. This reduced the oil and also the size of my pores! My cheeks are no longer red anymore. Please I have had problems for years and this worked.